Drawing on a wealth of overseas field research experiences, Professor Koji Tsuji of the Faculty of Education, facilitates education and exchange between Japan and ASEAN countries. His journey took a pivotal turn in 2014 when he joined Chiba University, transitioning from the path of agriculture to that of education. What once appeared as distinct currents have seamlessly converged into a singular river, nourishing the university's landscape of nurturing talents.
Dream forward to the unknown lands beyond the sea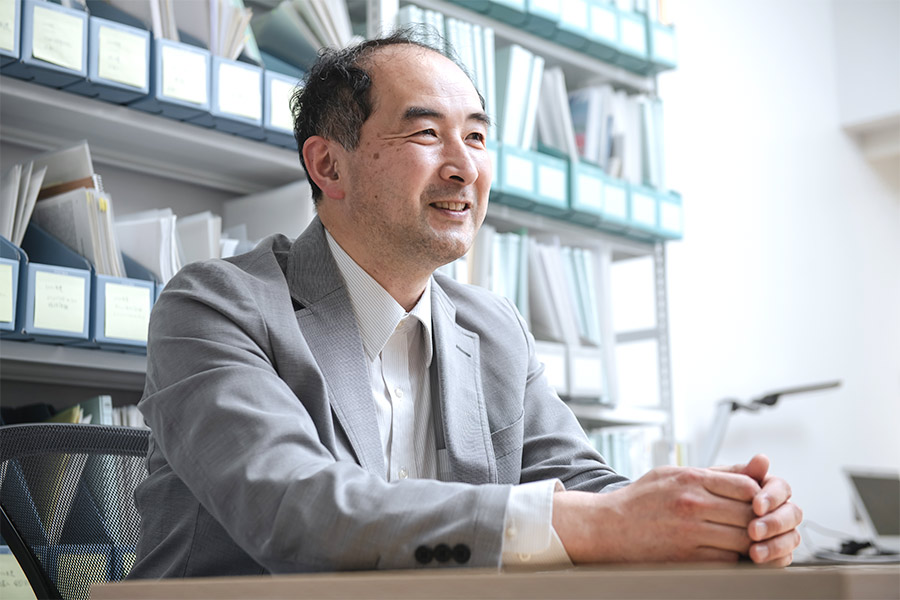 I grew up in Sakaiminato, Tottori Prefecture. While helping my grandparents with farm work, I was always filled with curiosity about the countries that might lie beyond the sea. My interests expanded to exploring rural communities to understand their food culture and history. This journey led me to pursue research at the Crop Evolution Lab within the Graduate School of Agriculture at Kyoto University. This lab focuses on clarifying the origin of agricultural products through the integration of genetics and cultural anthropology methods.
My doctoral research revolved around uncovering the origin of Tartary buckwheat. Immersed in diverse surveys about Tartary buckwheat worldwide, my expertise caught the attention of the Ministry of Agriculture, Forestry and Fisheries (currently the National Agriculture and Food Research Organization), inviting me to engage in international collaborative research during my time in graduate school. This opportunity led me to participate in a field survey on Tartary buckwheat in Nepal. Tartary and common buckwheats play such an important role in the food culture of Nepal that they are even consumed as staple foods in some regions.
During my field research visit to the remote area of Mustang, I had the privilege of meeting Mr. Toru Kondo*. His dedication extended beyond his expertise in agriculture; he was actively involved in endeavors to improve the lives of the local people through educational initiatives, such as establishing schools and providing school lunches. The encounter with Mr. Kondo was an immensely inspiring experience for me as a young individual.
*Toru KONDO (1921-2016): Japanese agronomist and former Nepal-Mustan Regional Development Cooperation Association Chairman. He dedicated his life to promoting agricultural development in Nepal and gained significant admiration in Nepal and Japan.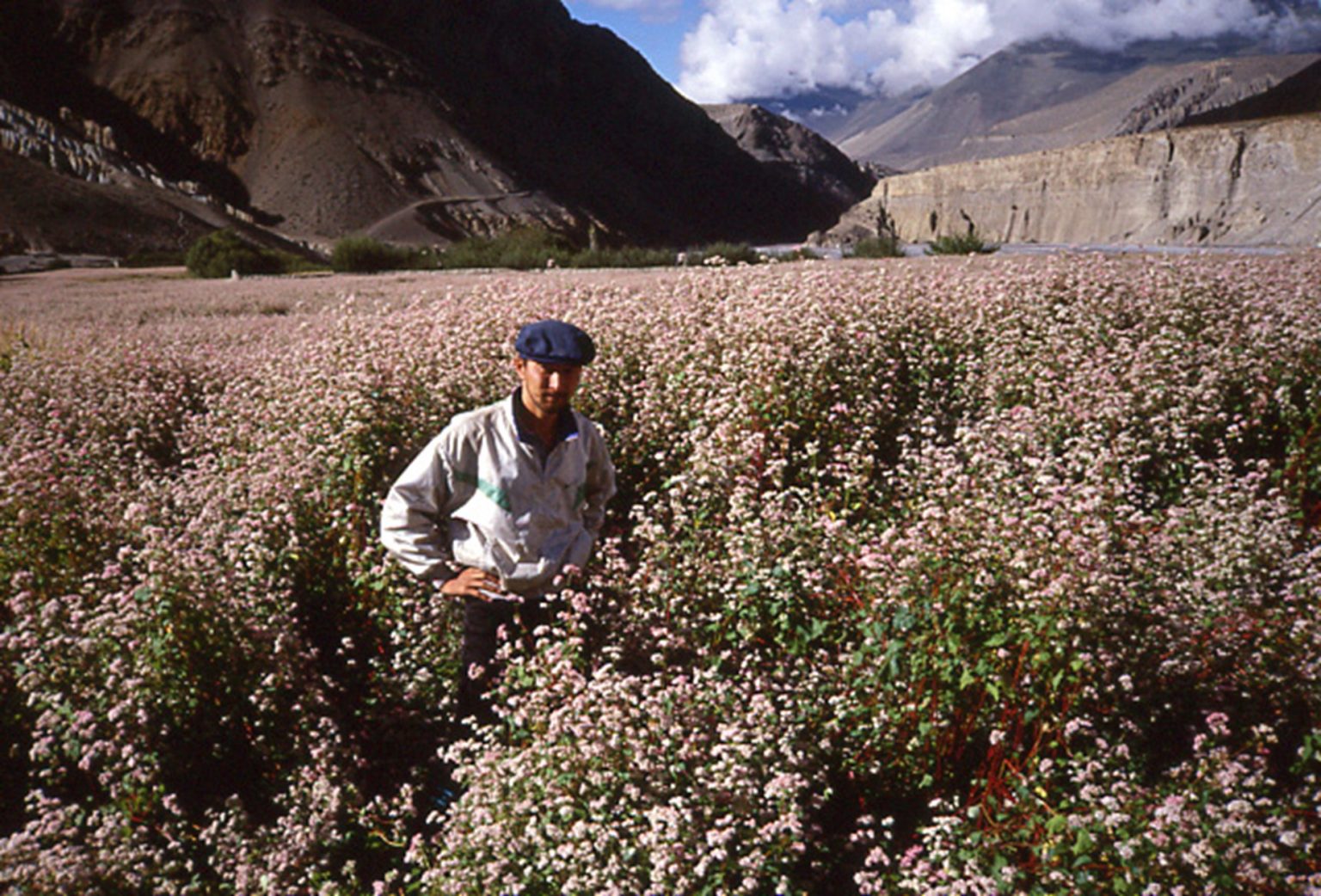 ―Even after the research in Nepal, you continued with days filled with overseas fieldwork.
In 2009, I was honored to be selected as a fellow of the 'Japan-CGIAR Fellowship Program' supported by the Ministry of Agriculture, Forestry and Fisheries. As part of the application process, I had the task of arranging a host research institute and a supervisor on my own. Thanks to the introduction by my mentor, who had supported me, I had the privilege of becoming a visiting researcher under the guidance of the Director of Asia, Pacific, and Oceania Regional Office of Bioversity International*, an international research institute headquartered in Italy. Since this experience, I have repeatedly realized how precious human connections are.
*International research institute focused on the conservation and utilization of biodiversity in agriculture
As part of this initiative, I undertook field surveys and genetic diversity evaluations within the native habitat of the Nipa Palm in Malaysia. The Nipa Palm is an incredibly valuable plant that has been extensively utilized: its leaves for roofing and furniture and its sap as a resource for biofuel in addition to being consumed as juice. While constituting a significant component of the mangrove ecosystem prevalent along Malaysia's coastal regions, the Nipa Palm's natural habitats have been progressively diminishing in recent years due to development associated with economic growth.

Consequently, I conducted field surveys to collect Nipa Palm seeds from various habitats, which were then stored in a laboratory. This storage ensures their potential regeneration in the event of habitat loss. Furthermore, employing DNA analysis, I found that Malaysian Nipa Palms can be classified into three distinct regional groups (as shown in the figure below). As a result of this finding, I recommended selecting at least one site from each region for habitat preservation efforts.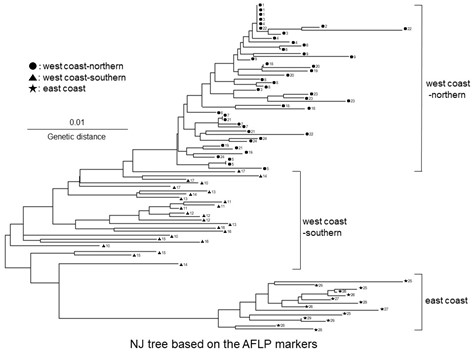 The research conducted in Malaysia was a joint effort with a national research institute, the Malaysian Agricultural Research and Development Institute. I deeply appreciated their generosity, such as their support during field surveys and the provision of laboratory facilities. To this day, I remain grateful for their assistance. Malaysia is a country where Islam is the state religion. The experience of spending time with local Muslim researchers gave me an opportunity to think about differences in lifestyle habits due to culture and religion, as well as the shared aspects of our humanity.
Participating in India's national project to increase soybean production as a JICA expert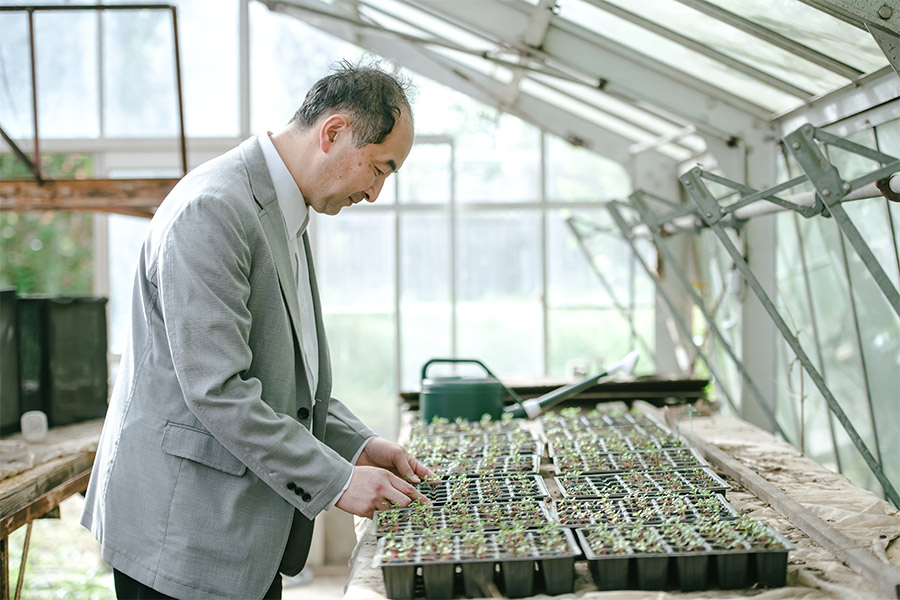 ―After that, you were posted to India
Starting in 2011, I worked as an expert for the Japan International Cooperation Agency (JICA) for three years in Madhya Pradesh, India, the center of soybean production and where few Japanese reside. India stands as the world's fifth-largest soybean producer. However, a significant number of those engaged in cultivation are small-scale impoverished farmers, and the issue of low productivity was prevalent. In response, I collaborated with the state government and agricultural state universities, Jawaharlal Nehru Krishi Vishwavidyalaya (JNKVV) and Rajmata Vijayaraje Scindia Krishi Vishwa Vidyalaya (RVSKVV), to drive forward the 'Project for Maximization of Soybean Production in Madhya Pradesh.' This initiative aimed to boost soybean productivity, a crucial undertaking that could lead to higher self-sufficiency in edible oil and augmentation in producers' income.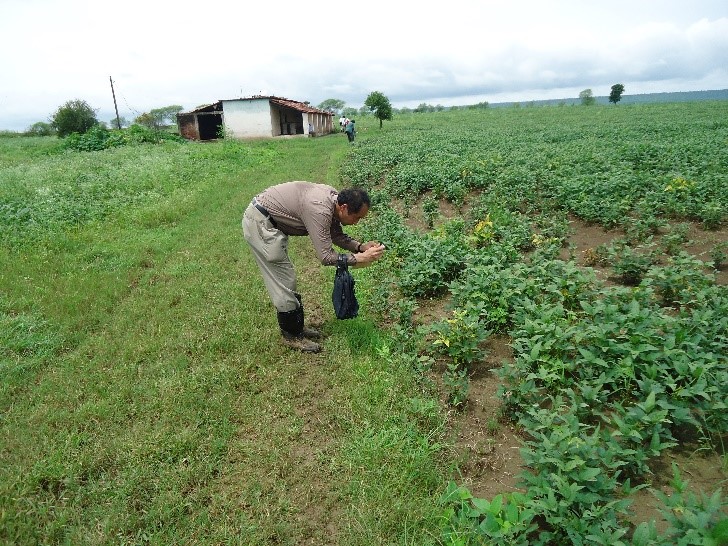 Soybeans are normally grown during the rainy season, yet India's rainy season is two months shorter than that of Brazil, a globally renowned production country. This leads to a situation where soybeans tend to flower and bear fruit without ample growth, resulting in reduced yields. Additionally, the prevalence of poorly drained land in India contributes to the susceptibility of crops to damp damage (harm caused by excessive soil moisture) during the rainy season. Therefore, my efforts focused on identifying cultivation conditions that would facilitate adequate growth even within the confines of the short rainy season. I sought cultivation methods that would mitigate the risk of damp damage. In addition, recognizing that local farmers lacked sufficient knowledge about pests and pesticides, I prioritized agricultural education to enhance their understanding.
―In India, you came up with a new theme that leads to your current research
The initiative focused on incorporating indigenous crops into school lunch menus to promote food education. Locally, various types of millet, such as foxtail millet, pearl millet, and barnyard millet, have been traditionally cultivated for household consumption in the corner of soybean fields. These millets are processed into sweets and seamlessly integrated into daily diets. Recognizing their significant nutritional value and the principle of local production for local consumption, the concept of utilizing these millets in school lunches emerged.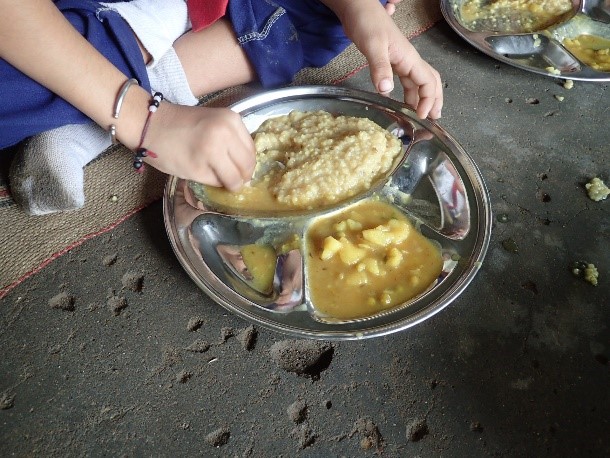 The driving force behind this initiative was a strong need to improve the school menus with delicious and nutritious options. The inspiration for this endeavor was drawn from the activities of Mr. Toru Kondo in Nepal, providing valuable insights into creating appealing and healthful meal choices.
Developing globally shareable teaching materials to learn about Sustainable Development Goals through agriculture and food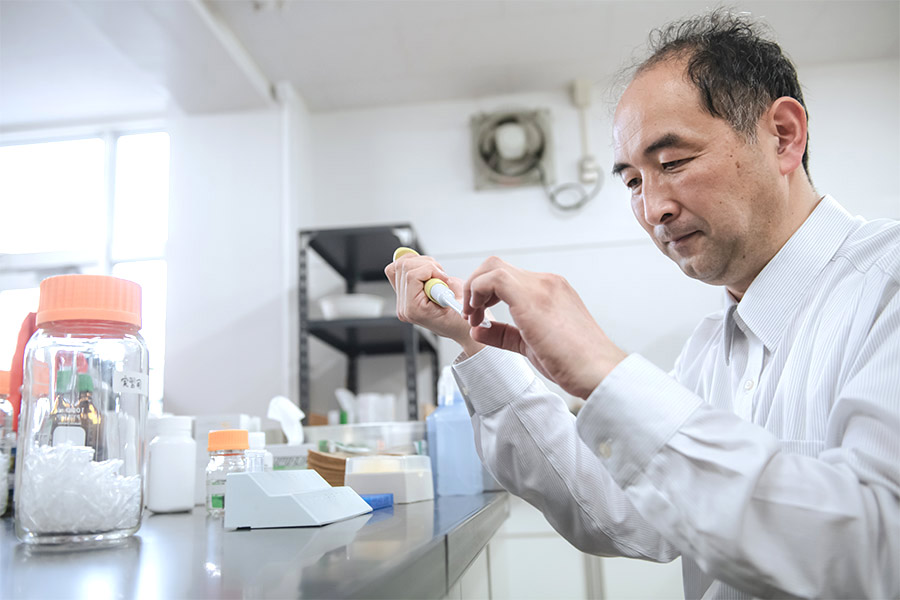 ―What led you to transition into the field of education upon returning to Japan?
While I had always harbored a desire to work in the education sector, my involvement in agricultural guidance as a JICA expert gradually crystallized the awareness I needed to contribute to society by sharing my experiences. Around that time, as my assignment was nearing its end, I came across an open job position at Chiba University and promptly submitted my application. Upon being selected, a sense of destiny overwhelmed me as I realized that my aspiration of becoming a teacher could be fulfilled there. Indeed, there might have been a context in which Chiba University's Faculty of Education was just beginning to establish the TWINCLE Program, seeking individuals with extensive overseas experience.
*TWINCLE Program: Chiba University's unique internship initiative where graduate students from both the Faculty of Education and the Graduate School of Science and others collaborate in groups to design teaching materials and give lessons at high schools in ASEAN countries.
―You are also leading the role of principal investigator in an international joint research project titled, 'Contribution to Sustainable Development Goals (SDGs) from the view of education on agriculture among Asian countries'
Drawing from my experience in developing school lunch menus in India, I came to realize that agriculture and food are universal human activities that can serve as educational resources applicable across any country. While 'Agriculture and Food' might be a concise term, it encompasses a variety of topics, such as climate, soil, pesticides, genetic modification, food self-sufficiency, and hunger, allowing for endless exploration. This theme also harmonizes seamlessly with SDGs education. By addressing this common subject in multiple countries, we can learn about diverse perspectives influenced by each nation's context.
For example, from the perspective of Japanese people who regularly consume a wide variety of soy-based foods, the current situation in India—where soybeans are primarily cultivated as raw material for edible oil—might be quite a surprise. What we once considered common sense turns out to be far from ordinary beyond our own country's borders, and conversely, unexpected phenomena are often shared across national boundaries. Through such examples, I collaborate with universities in India and ASEAN to develop educational materials and curriculums that foster international understanding.
Bringing the joy of international activities to the next generation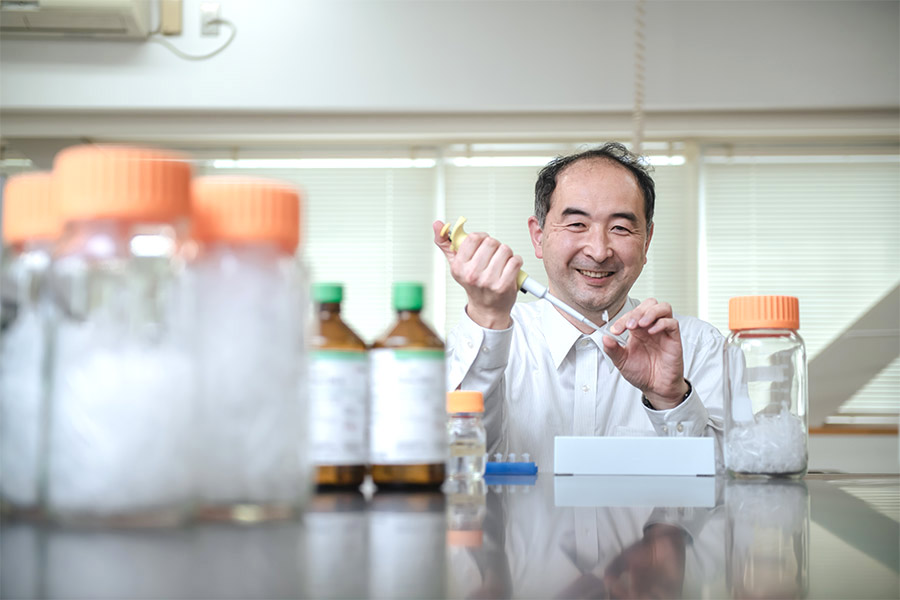 ―Please give a message to students who are considering future international exchange activities
What are the essential attributes of global talents?
'Strong academic competence in one's specialized field' and 'In-depth understanding of Japan'
I believe these two points are particularly important. For those aspiring to become global talents, it's crucial to be conscious of not solely focusing on English language proficiency but also maintaining a strong foundation in these two aspects. Above all, please never overlook the significance of 'respect for others.' This quality is not just essential for being a global talent, but is also fundamental to being a well-rounded individual.
The roots of my international engagement trace back to my childhood fascination with 'beyond the sea.' I've been dedicated to conveying the excitement of engaging with people from abroad, the vastness of our world, and the unexpected shared values to the next generation. It seems that current students, perhaps influenced by the challenges of directly connecting with overseas due to the Corona Pandemic, exhibit waning interest in foreign matters. I would be delighted if vivid accounts of my experiences abroad could inspire a sense of "exploring foreign lands can be thrilling" and motivate students to learn and interact with the global community.