Researchers find that information on environment, lifestyle, and DNA methylation can improve gastric cancer risk assessment
Aberrant DNA methylation in the gastric mucosa is an important biomarker for gastric cancer. While exposure to pathogens like Helicobacter pylori can exacerbate such aberrant DNA methylation, it is unknown whether these are a direct indication of future tumor development or gastric neoplasia. Scientists from Japan and Singapore have found that integrating DNA methylation data with patients' lifestyle and clinical data improves risk stratification for predicting gastric neoplasia.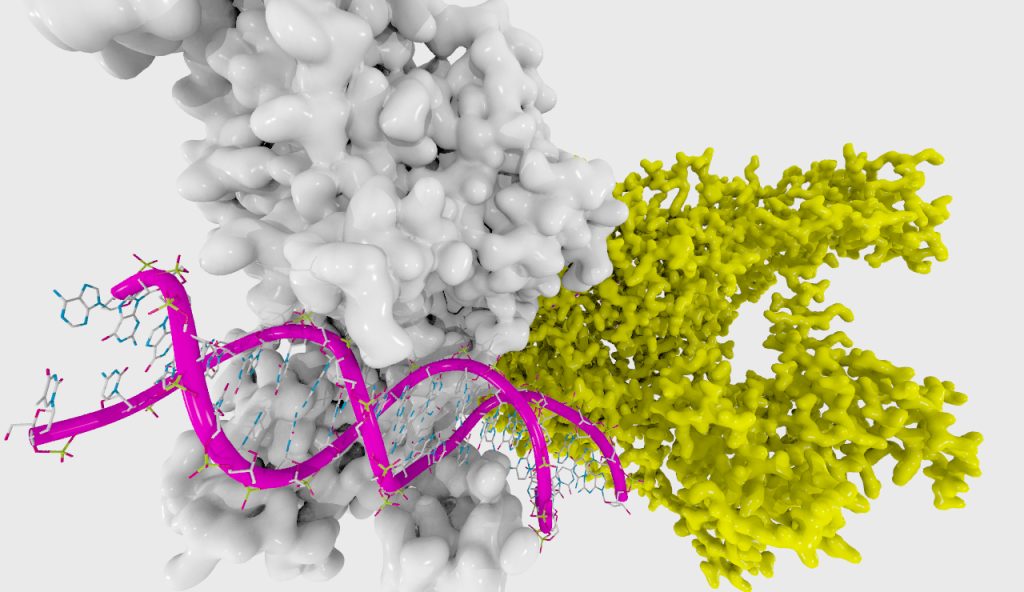 Image title: DNA methylation data can help predict gastric cancer risk
Image caption: Although DNA methylation is essential for numerous activities within cells, aberrant methylation can have grave consequences. Researchers have found that aberrant methylation could act as a marker for predicting the risk of gastric cancer, especially when combined with information about a patient's lifestyle, such as tobacco and alcohol consumption habits.
Image credit: Enzymlogic from Flickr
Image source: https://flic.kr/p/fSGJcr
Image license: CC-BY-SA 2.0
Gastric cancer is the fourth leading cause of cancer-related mortalities worldwide. Various environmental and lifestyle-related factors, like tobacco and alcohol consumption, are known to contribute to the risk of gastric cancer. Further, infection by Helicobacter pylori–a bacterium found in the stomach–is another leading risk factor for the onset of the disease. H. pylori infection can cause inflammation and exacerbated aberrant DNA methylation in the stomach mucosa. Aberrant DNA methylation due to H. pylori infection can accumulate in the gastric mucosa years before the onset of gastric cancer. DNA methylation in the promoter region of tumor-suppressing genes is known to cause silencing of these genes and eventual carcinogenesis in the tissue. However, it remains to be confirmed whether DNA methylation caused by H. pylori infection can be used as a marker for future gastric cancer. Further, there are no reports on how the interaction between DNA methylation and lifestyle factors influences the development of gastric cancer.
An international team of researchers, led by Prof. Atsushi Kaneda from Chiba University, Japan, with Prof. Patrick Tan, Senior Vice-Dean for Research & Professor, Cancer & Stem Cell Biology Signature Research Programme, Duke-NUS Medical School and Prof. Khay Guan Yeoh, Kishore Mahbubani Professor in Medicine and Health Policy from the Department of Medicine at the Yong Loo Lin School of Medicine, National University of Singapore, has recently demonstrated how DNA methylation and lifestyle factors interact and influence the risk of gastric tumor development, also known as gastric neoplasia (GN). The study also involved Dr. Genki Usui and other researchers from the following institutions in Japan and Singapore: Chiba University, The University of Tokyo, NTT Medical Center Tokyo, Tokyo University of Science (all in Japan); and Duke-NUS Medical School, the Yong Loo Lin School of Medicine, National University of Singapore, National University Hospital, Tan Tock Seng Hospital, Singapore General Hospital, and Changi General Hospital (all in Singapore). They collaborated on co-authoring the manuscript published in eBioMedicine on October 26, 2023. Discussing his motivation to pursue the research, Dr. Kaneda, who was formerly a gastrointestinal surgeon, says, "It is, of course, very important to cure patients who have already developed cancer, but I believe it would be more helpful if we can manage cancer risk before cancer development."
The team studied the association between clinical factors and GN development. They examined gastric mucosal biopsy samples collected from asymptomatic subjects who developed GN later or didn't develop GN during a health check-up. Methylation analyses were performed on DNA extracted from these biopsy samples and also from GN tissue, and the mucosae in its vicinity taken from patients who developed GN later. The data revealed that DNA methylation that highly accumulated in the gastric mucosa many years prior to GN formation was associated with higher GN risk and a shorter period for the onset of disease. Interestingly, the data also showed that methylation levels in the patients' DNAs were linked to H. pylori infection and a lifestyle that involved tobacco and alcohol consumption.
While DNA methylation was determined to be an independent GN risk factor, drinking and smoking were found to amplify the pro-carcinogenic DNA methylation alterations caused by H. pylori. "The combination of unfavorable lifestyle factors and DNA methylation resulted in a much higher risk of GN development," says Prof Tan. "Most importantly, when integrated into our analyses, this information accurately reflected the risk of GN and offers the possibility of tailoring management according to the risk of the patient," adds Prof Yeoh.
The study's findings could go a long way in securing a future with lower healthcare costs. Dr. Kaneda is quick to note that stratifying the GN risk across a population opens the door to implementing appropriate cancer prevention strategies at an early stage. Additionally, he is hopeful the findings emphasize how lifestyle choices like tobacco and alcohol consumption impact long-term health.
"We foresee a scenario where high-risk individuals get an early start on gastric cancer interventions. This could be achieved by developing an examination kit that identifies the diagnostic DNA methylation markers and provides a precise GN risk assessment," concludeDrs. Usui and Kaneda.
About Professor Atsushi Kaneda
Atsushi Kaneda is Professor of the Department of Molecular Oncology and Director of the Health and Disease Omics Center, Chiba University, Japan. Prof. Kaneda earned his Ph.D. in 2004 from the Graduate School of Medicine at the University of Tokyo, and his research explores epigenetics and cancer. Through his research, he wants to investigate how epigenetic aberrations accumulate in normal cells under environmental stresses and influence tumor evolution, and apply this information to the development of more effective cancer therapies. He has published around 130 peer-reviewed articles since 1993.
Reference:
Title of original paper: Integrated Environmental, Lifestyle, and Epigenetic Risk Prediction of Primary Gastric Neoplasia Using the Longitudinally Monitored Cohorts
Authors: Genki Usui1,2,3, Keisuke Matsusaka1,4, Kie Kyon Huang5, Feng Zhu6, Tomohiro Shinozaki7, Masaki Fukuyo1, Bahityar Rahmutulla1, Norikazu Yogi1,8, Tomoka Okada1, Mizuki Minami1,4, Motoaki Seki1,9, Eiji Sakai10,11, Kazutoshi Fujibayashi12,13, Stephen Kin Kwok Tsao14, Christopher Khor15, Tiing Leong Ang16, Hiroyuki Abe2, Hisahiro Matsubara17, Masashi Fukayama2, Toshiaki Gunji12, Nobuyuki Matsuhashi10, Teppei Morikawa3, Tetsuo Ushiku2, Khay Guan Yeoh6,18*, Patrick Tan5,19,20*, Atsushi Kaneda1,21*
Affiliations :
Department of Molecular Oncology, Graduate School of Medicine, Chiba University, Japan
Department of Pathology, Graduate School of Medicine, The University of Tokyo, Japan
Department of Diagnostic Pathology, NTT Medical Center Tokyo, Japan
Department of Pathology, Chiba University Hospital, Japan
Cancer and Stem Cell Biology Program, Duke-NUS Medical School, Singapore
Department of Medicine, Yong Loo Lin School of Medicine, National University of Singapore
Department of Information and Computer Technology, Faculty of Engineering, Tokyo University of Science, Japan
Department of General Surgery, Graduate School of Medicine, Chiba University, Japan
Cancer Genomics Center, Chiba University Hospital, Japan
Department of Gastroenterology, NTT Medical Center Tokyo, Japan
Division of Gastroenterology, Yokohama Sakae Kyosai Hospital, Japan
Center for Preventive Medicine, NTT Medical Center Tokyo, Japan
Department of General Medicine, Juntendo University Hospital, Japan
Department of Gastroenterology and Hepatology, Tan Tock Seng Hospital, Singapore
Department of Gastroenterology and Hepatology, Singapore General Hospital, Singapore
Department of Gastroenterology and Hepatology, Changi General Hospital, Singapore
Department of Frontier Surgery, Graduate School of Medicine, Chiba University, Japan
Department of Gastroenterology and Hepatology, National University Health System
Genome Institute of Singapore
Cancer Science Institute of Singapore
Health and Disease Omics Center, Chiba University, Japan
Journal:
eBioMedicine
DOI:
10.1016/j.ebiom.2023.104844
Contact: Atsushi KANEDA
Graduate School of Medicine, Chiba University
Email: kaneda@chiba-u.jp
Public Relations Office, Chiba University
Address: 1-33 Yayoi, Inage, Chiba 263-8522 JAPAN
Email: koho-press@chiba-u.jp
Tel: +81-43-290-2018
Contact from NUS Medicine: Gladys SIM
Senior Assistant Manager, Communications,
Yong Loo Lin School of Medicine, National University of Singapore
Email: gladyssim@nus.edu.sg
Tel: +65 9007 1322
Contact from Duke-NUS Medical School: Federico GRACIANO
Senior Media & Content Specialist / Media Lead
Duke-NUS Medical School
Email: f.graciano@duke-nus.edu.sg
Tel: + 65 6601 3272