The FIFA World Cup—a football festival where the world's best players showcase their talent on a global stage. However, are you aware of "sports doctors," the unsung heroes who support the game from a medical standpoint on the world's biggest stage?
In January 2019, the Sports Medics Center was established at Chiba University Hospital with the aim of ensuring that everyone can enjoy sports safely, be they local sports or world-class sporting events like the World Cup. We spoke with Dr. Seiji Kimura, an orthopedic surgeon and sports doctor at the Sports Medics Center's secretariat, about the center's role and the essential work carried out there.
The Sports Medics Center, a hub for sports first aid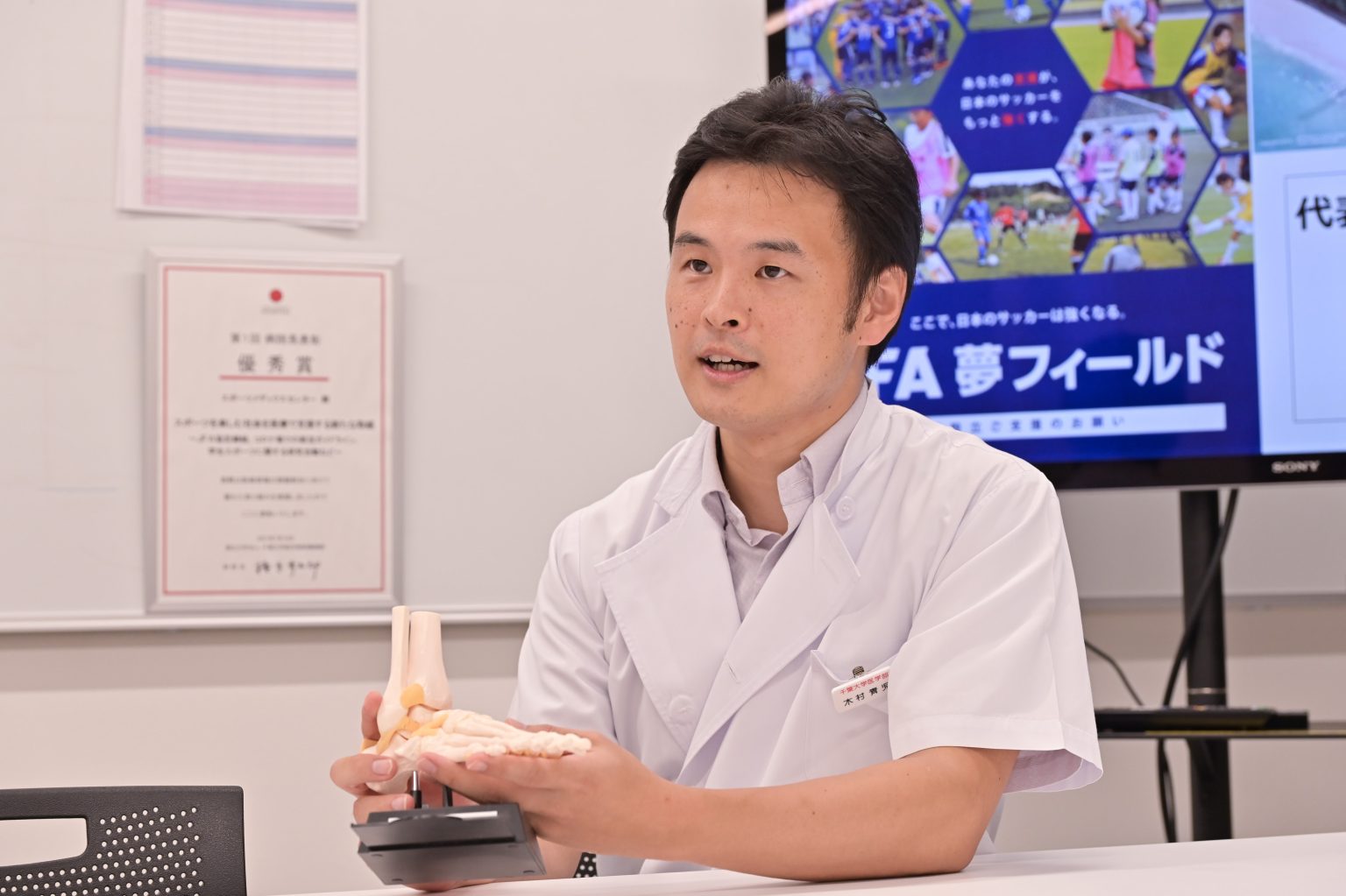 What kind of institution is the Sports Medics Center?
The Sports Medics Center serves as a medical support hub for sports events, providing comprehensive assistance from a medical standpoint. The center develops sports first aid medical systems and creates manuals independently of the hospital's department that treats sports injuries. We further provide all kinds of medical support to safely manage sports events. This includes training programs for personnel who can provide prehospital care in sports settings.
Just looking at the doctors on our staff, we have representatives from orthopedic surgery, radiology, emergency medicine, neurosurgery, endocrinology, cardiology, infectious disease medicine, and gynecology. Furthermore, we have more than 30 staff members from the diagnostic imaging center, radiology department, pharmacy department, nursing department, preventive medicine center, and environmental occupational health secretariat, as well as external experts.
You have a wide range of staff collaborating together. With what aim was the Sports Medics Center established?
Ever since it was decided that the Olympics, Paralympics, and the Rugby World Cup would be held in Japan, there has been a rapid increase in sports events held in Chiba Prefecture. As sports always come with a risk of injury, there was an urgent need to develop a first-aid medical system. However, in the process of reviewing the system, we found persistent challenges, such as the difficulty in achieving smooth collaboration among traditional organizations.
Therefore, there was a growing need for a comprehensive collaboration center that could involve multiple hospital departments and local medical institutions, cutting across the fields of prevention and public health. Thus, the Sports Medics Center was established in January 2019.
Supporting the Japanese national football team for the World Cup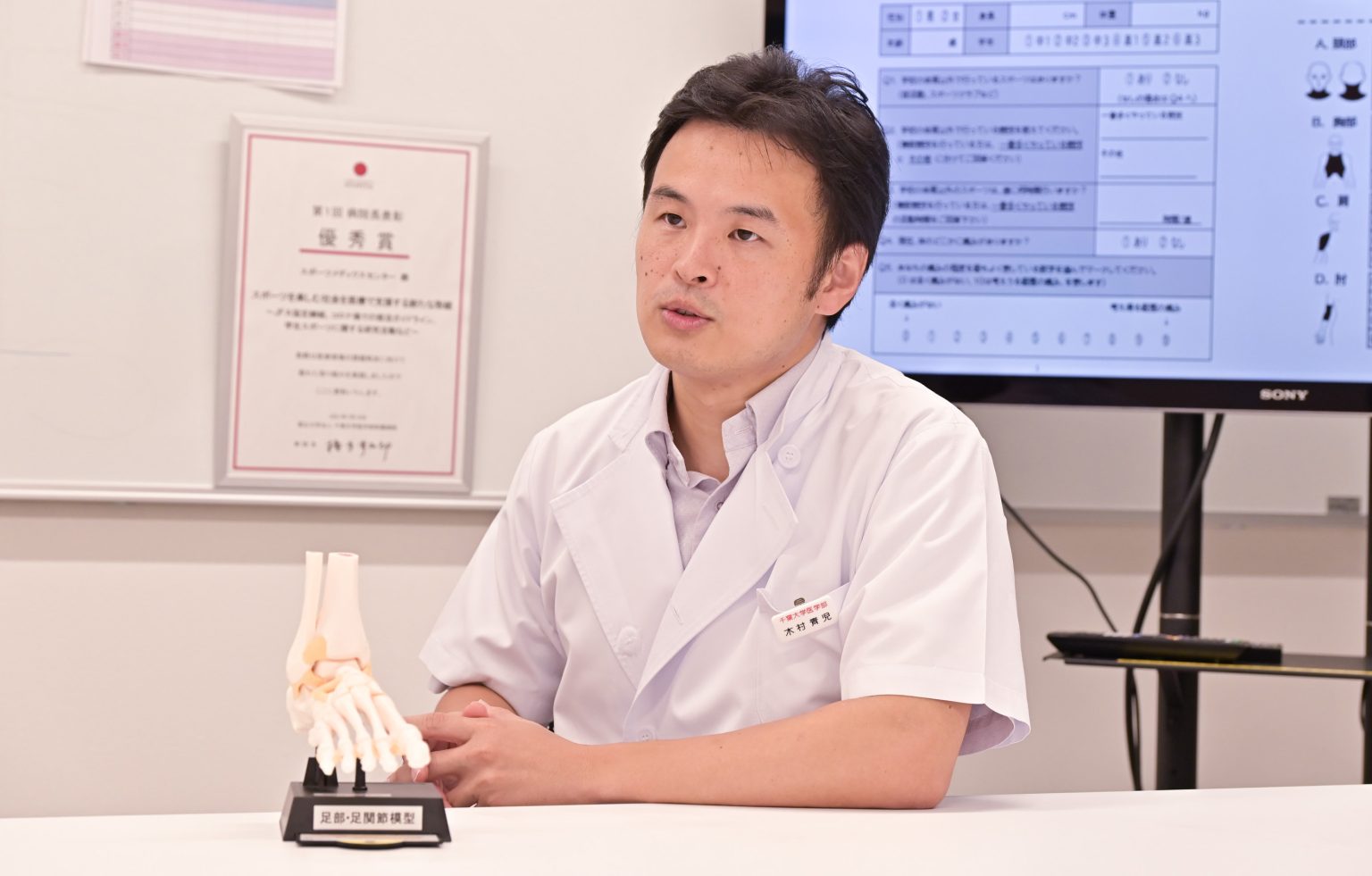 Please tell us about your specific activities.
Our activities are centered on three pillars: group support, event support, and research. Let's start with group support, which is what most people are familiar with.
The FIFA World Cup Qatar 2022 kicked off on 20 November 2022. In July 2020, the Chiba University Hospital and the Japan Football Association signed an agreement to provide medical support to the Japanese national team during training at the Prince Takamado Memorial JFA YUME Field in Mihama Ward, Chiba Prefecture. In order to ensure that the players can focus on the game with peace of mind, we prepared a collaborative system to promptly conduct medical examinations and treatment at the University Hospital or local medical institutions when they are required.
Moreover, our center supplies medical services to the men's professional basketball team, Altiri Chiba. We provide health management guidance and accompany the team during games. In the event of injury, the injured players and team managers are informed about the condition of the injury and treatment methods, and treatment will be provided with the player's consent.
Being a sports doctor seems fantastic at first glance, but I suspect you may face many challenges and difficulties in your line of work
I was surprised to find that basketball involves more physical contact than I initially expected. While I can advise amateur players to rest and see how things go after injury, in professional games, that's not always an option. If an injured player and the team wish to continue the game, I have to make crucial decisions quickly, often in a short span of time.
When it comes to foreign athletes, many of them prefer to undergo post-operative rehabilitation in their home country. In such cases, I prepare a detailed medical referral form outlining the patient's medical history and a comprehensive rehabilitation plan in English, while still performing regular medical duties. I believe my love for sports makes it easier for me to handle these additional responsibilities.
Moreover, anti-doping is an increasingly crucial aspect of professional sports today. It is important to note that even the common drugs we use may contain prohibited substances, with a list of banned substances that is updated frequently. We constantly check the latest information and take great care to protect athletes from accidentally doping with prohibited substances.
Towards a future of sports with greater peace of mind for all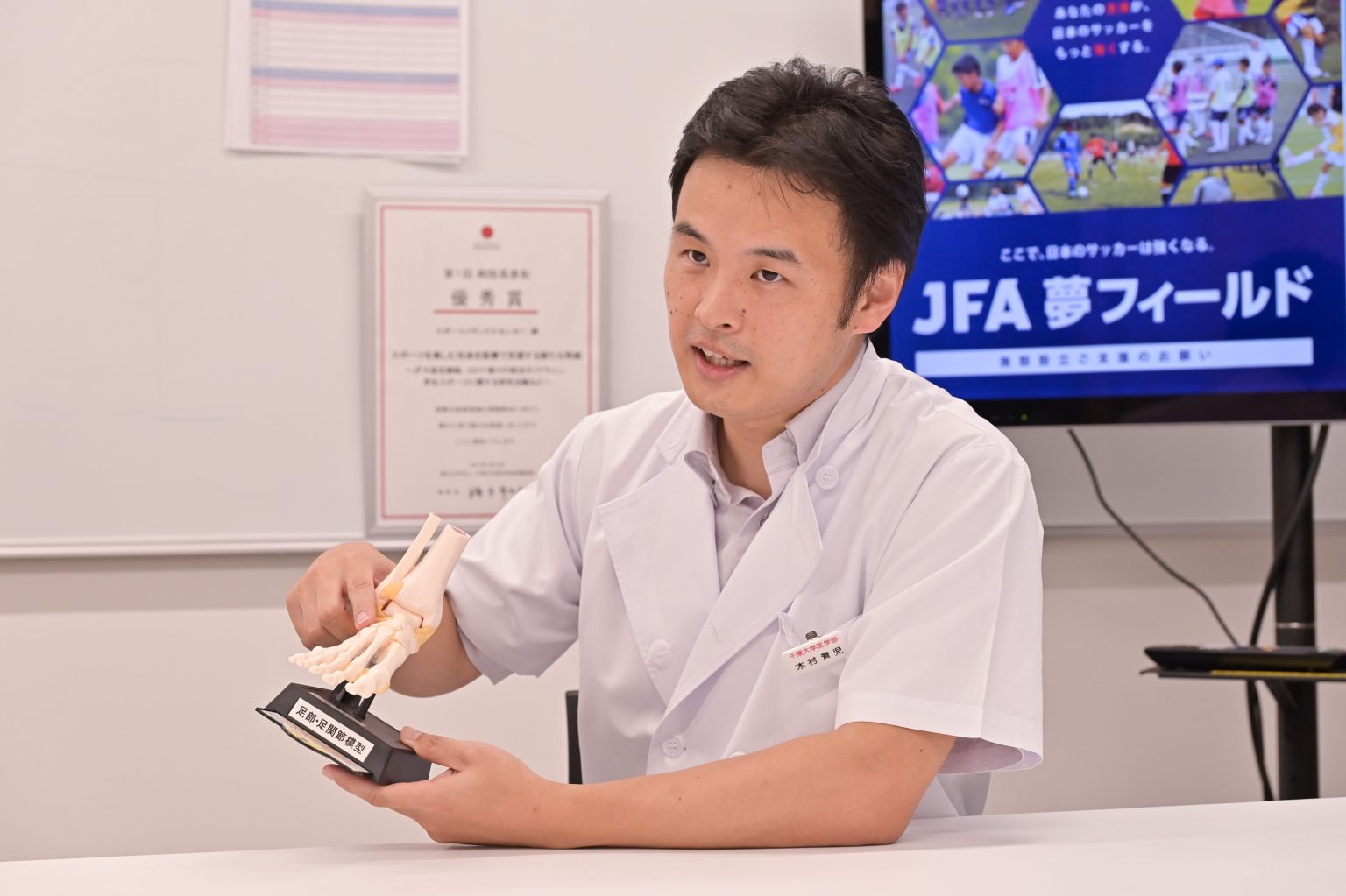 You mentioned that the Sports Medics Center also serves the purpose of event support and research
Event support includes the development of prehospital care systems for sporting events and the implementation of capacity development training courses. In addition to providing prehospital care support on the event day, we participate in the planning stage to determine a suitable transportation route for the injured and the location of Automated External Defibrillators (AEDs). We then create relief manuals to ensure that participants can take part more safely.
In Chiba Prefecture, we also have high-risk competitions such as triathlons that challenge the limits of the human body and events where one doctor is in charge of all medical support. I can't say, "I can't provide life-saving procedures because I'm just an orthopedic surgeon." Therefore, I receive lectures from emergency medicine doctors and strive to improve my skills every day so that I can save as many lives as possible.
The Sports Medics Center is expanding the range of sports medicine by organizing personnel development courses for sports event prehospital care in collaboration with PHICIS JAPAN*.
*An organization that aims to disseminate "standardized algorithms for providing proper initial responses" at sports sites and to cultivate personnel to ensure on-site safety
I see how the tireless efforts of doctors lie behind the success of sporting events. Now, please tell us about the third pillar—research.
In May 2020, we created a guidebook for promoting infection control and preventing physical weakness during the COVID-19 pandemic, as well as guidelines for resuming club activities safely. We distributed about 14,000 copies to schools and sports facilities in Chiba prefecture. Muscle strength decreases more than you would think when you are not exercising for a long time, like during a pandemic "self-restraint" period. If you suddenly increase your training load, there is an increased risk of stress fractures and other injuries. We, therefore, medically explained the importance of gradually increasing the intensity of exercise or activity. We got feedback from practitioners that this information was very helpful.
Currently, we are conducting a survey on sports-related pain among students in cooperation with the Chiba City Board of Education. In the past, pain from excessive exercise and sports injuries hasn't been investigated much for middle- and high-school students.
To understand the relationship between exercise load, pain, and mental state, we conducted a questionnaire survey of 5,000 students in about 500 middle and high schools in Chiba Prefecture. We are now analyzing the results and aim to present appropriate guidelines on how much exercise can be done to enjoy sports without experiencing pain.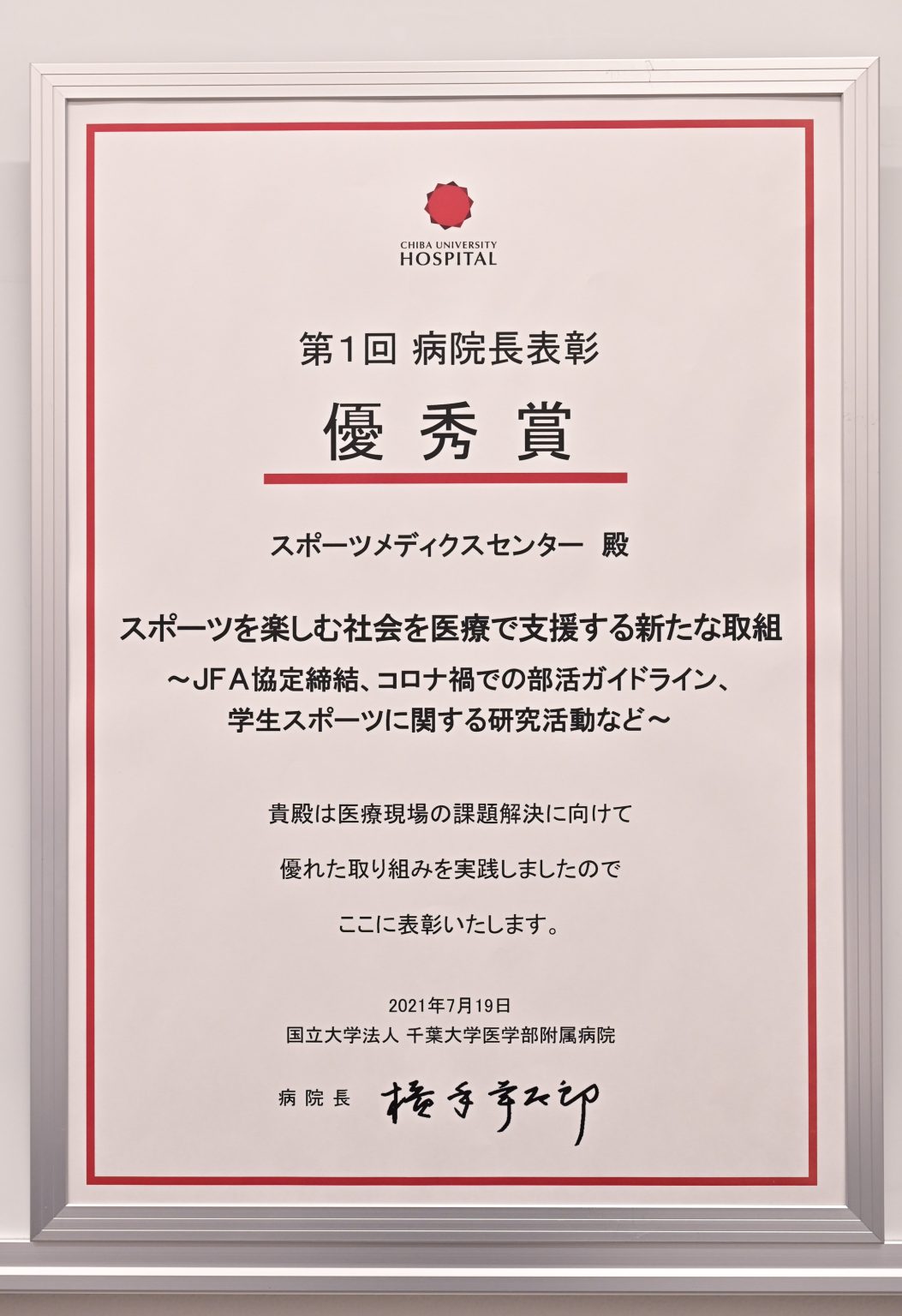 Do you have a message for middle- and high-school students who aspire to become sports doctors?
The most important thing is to "love sports." Please enjoy playing sports to the fullest. Although it has the word "doctor" in the name, "Sports Doctors" are not only doctors and dentists, but also nurses, physical therapists, occupational therapists, certified dietitians, judo/bodywork therapists, and other professionals. If you pursue your interests and use your specialized knowledge and skills to contribute to the field of sports medicine, you will be a great sports doctor. We, as your senior sports doctors, are waiting for you out in the field.
The Sports Medics Center provides comprehensive medical support, allowing anyone, from professional athletes who push their physical limits to participants in community events, to those who enjoy sports safely and securely. Behind the success of sporting events lies the unwavering dedication and passion of all sports doctors.